updated September 2016
---
For more information on our Analogue Masters - please see the CD/SACD version with the same number.
Just click on
Catalogue Contents.
All albums that are marked with

were recorded analogue.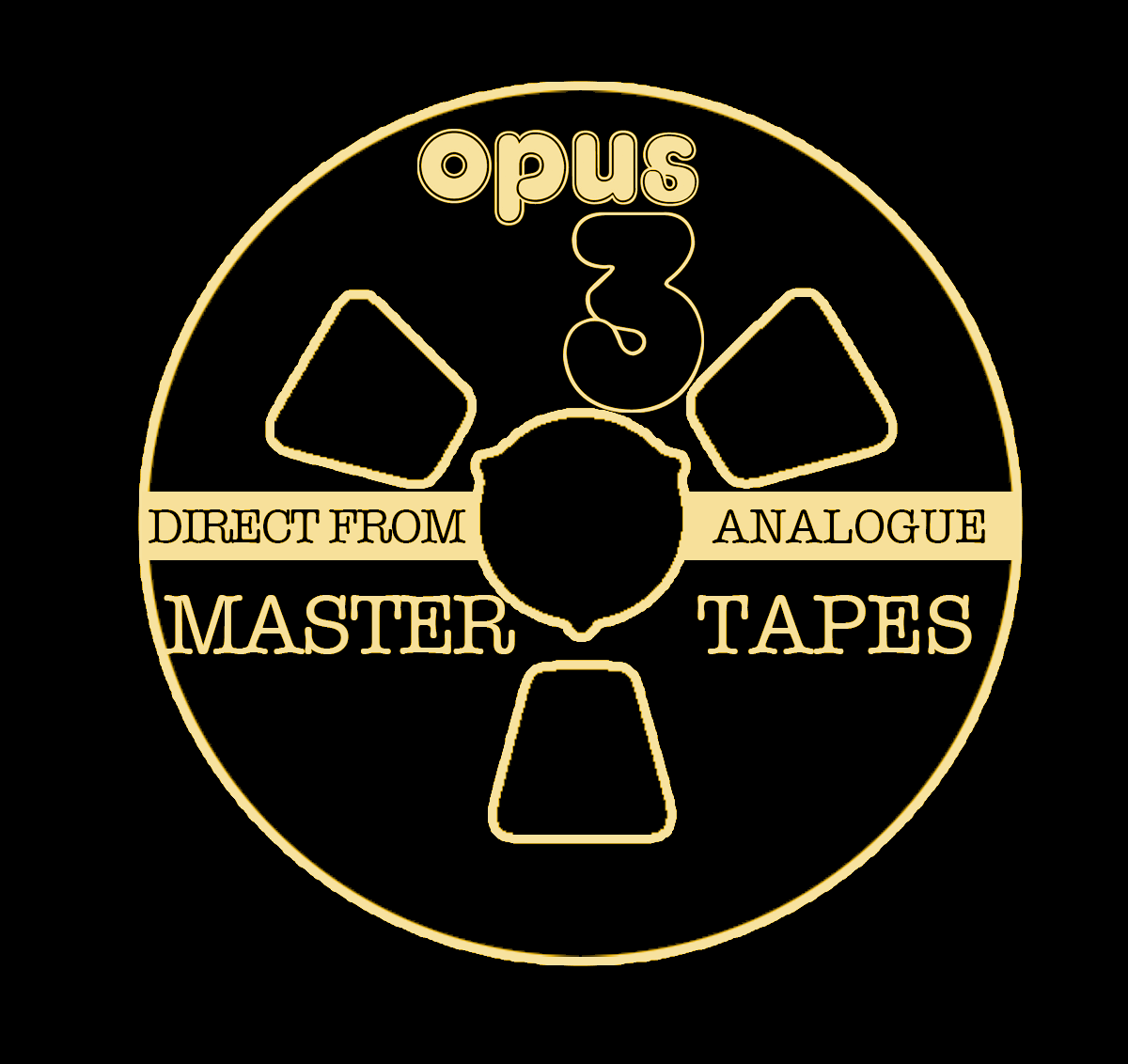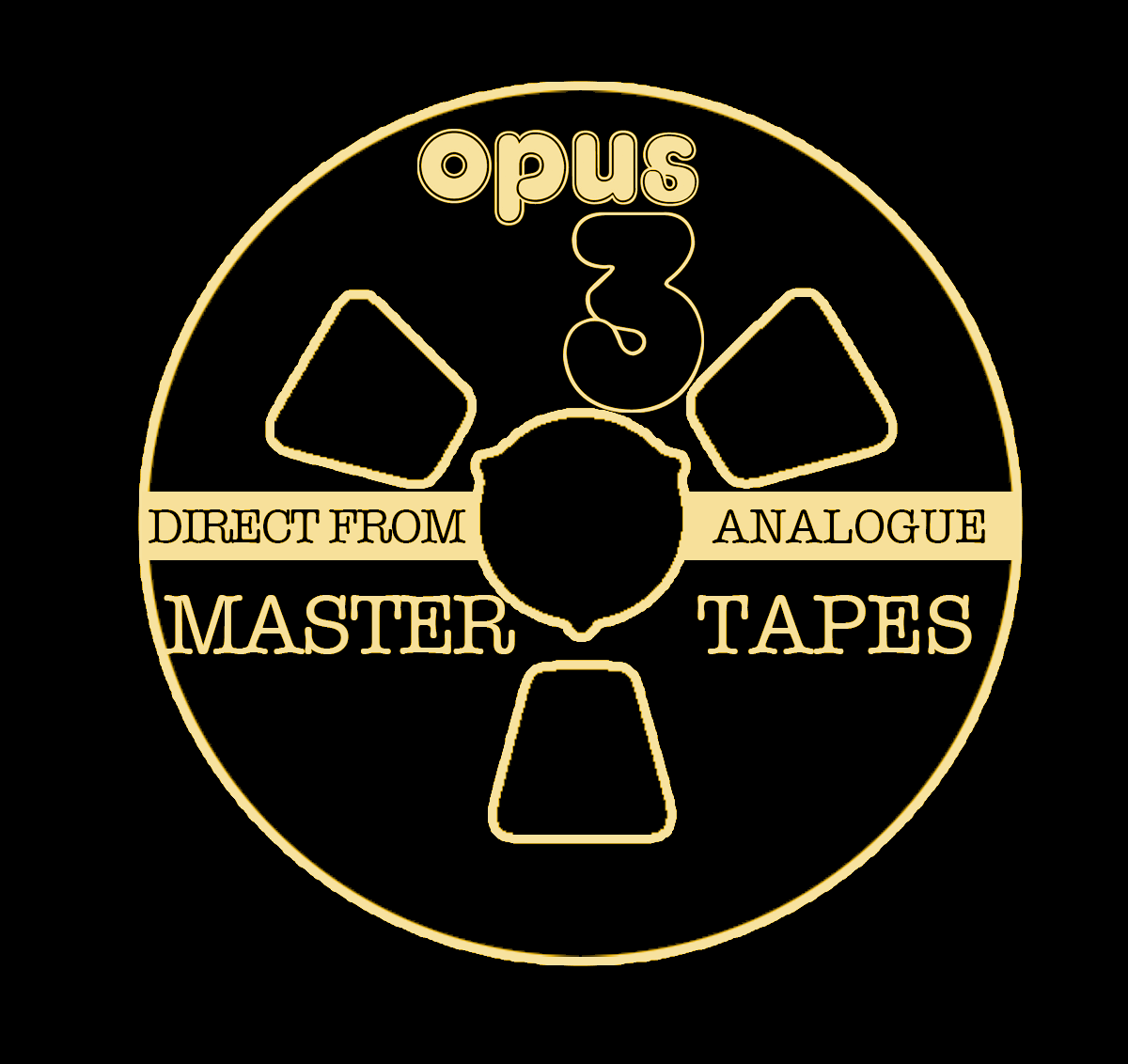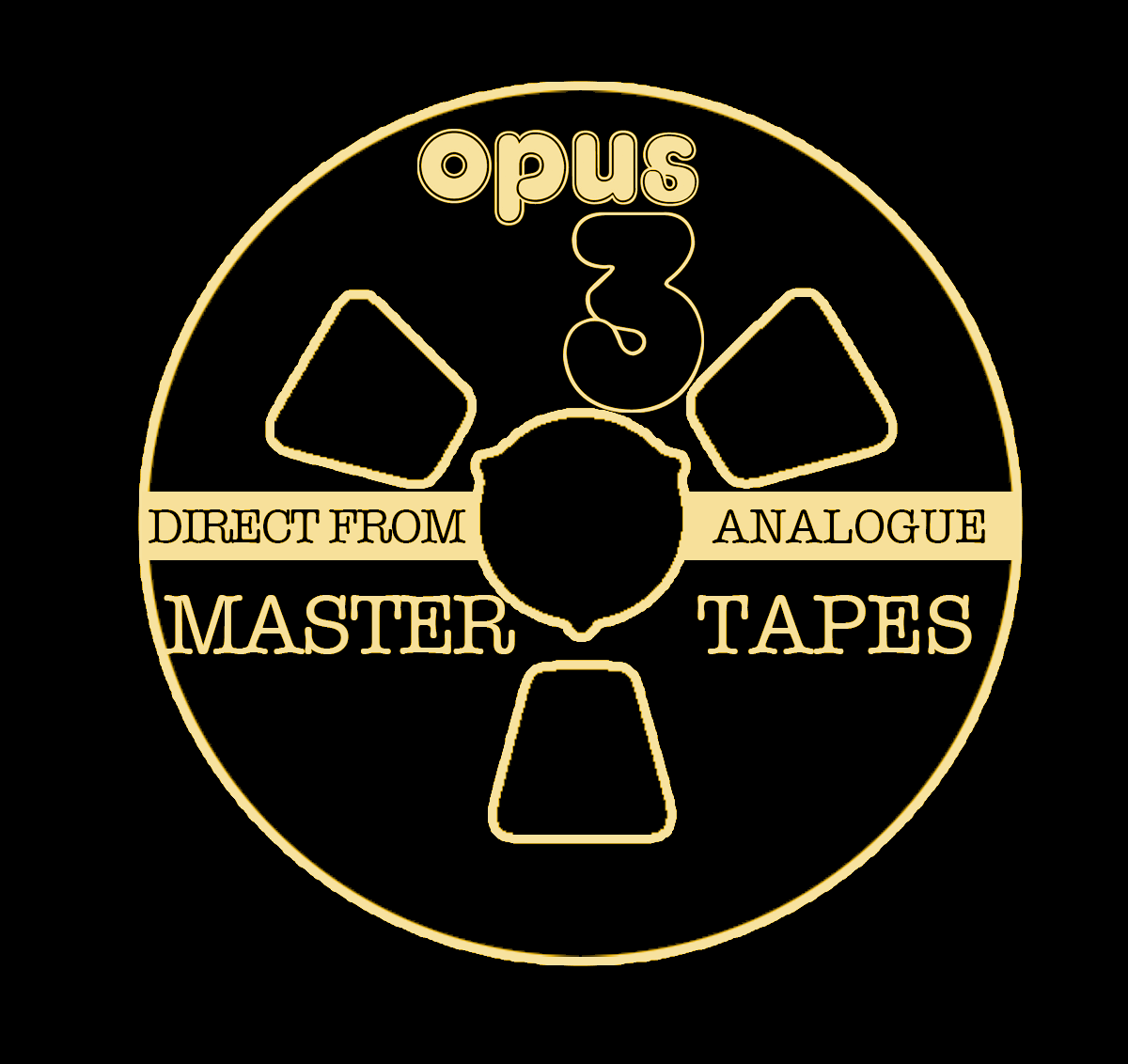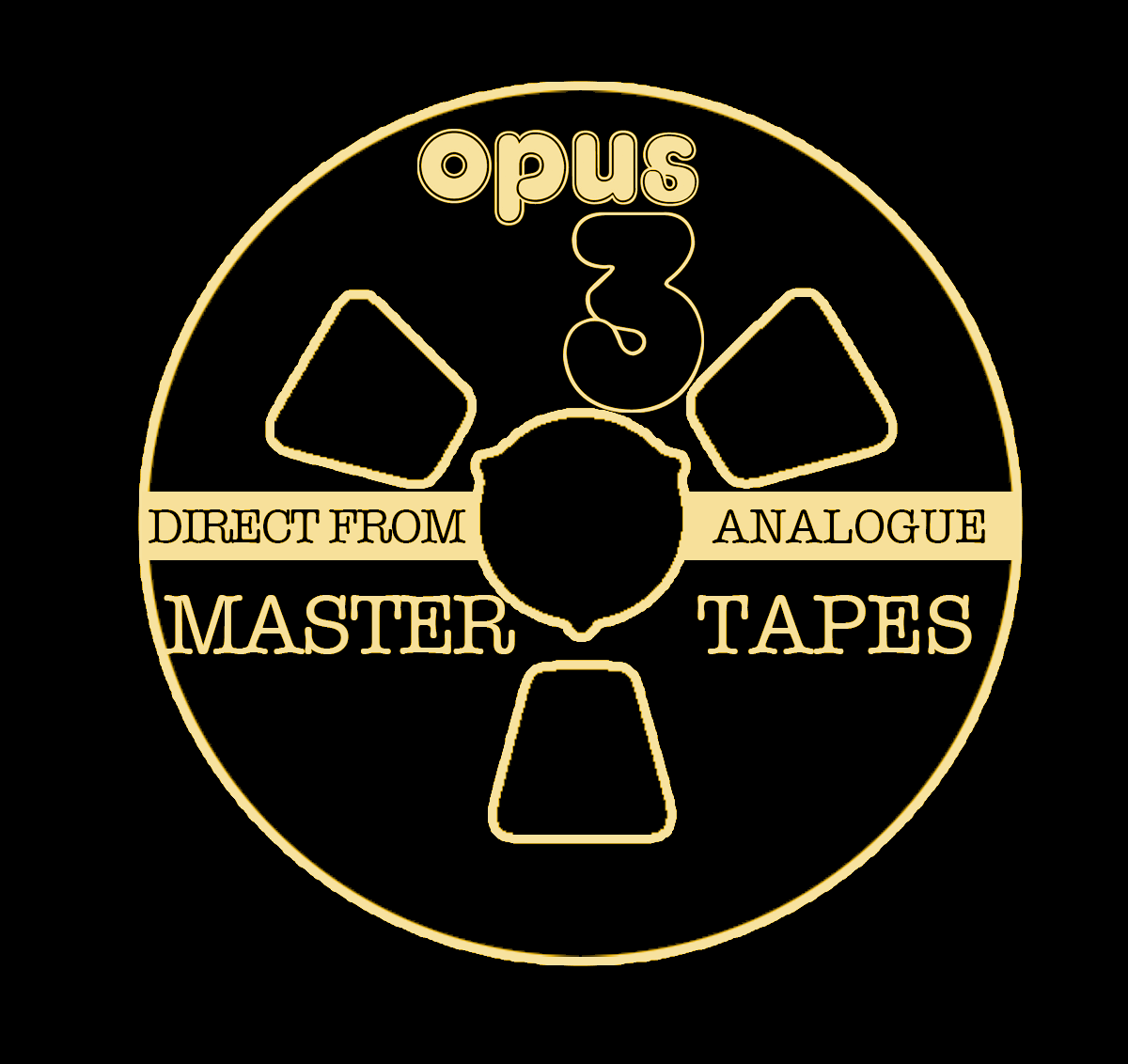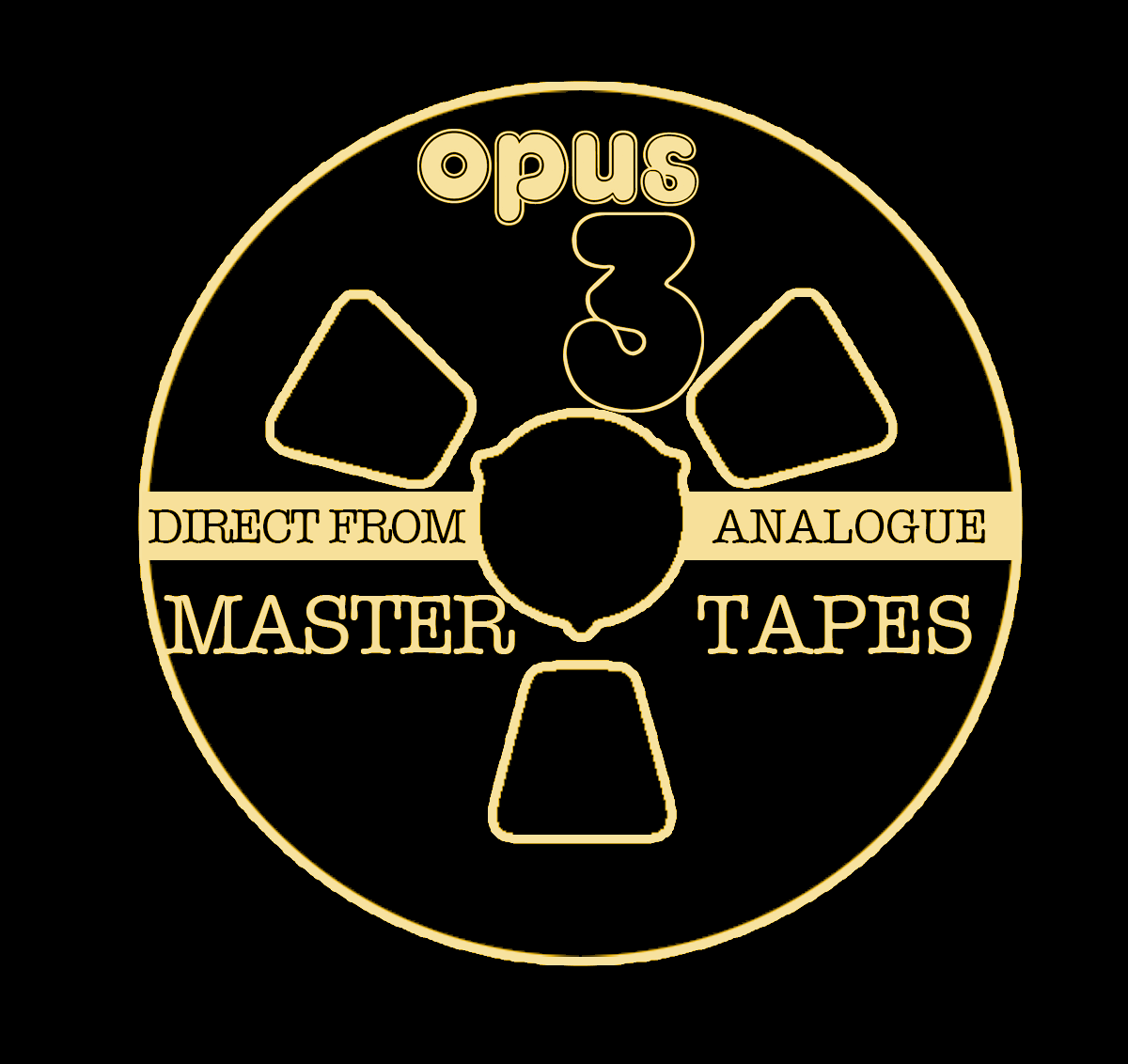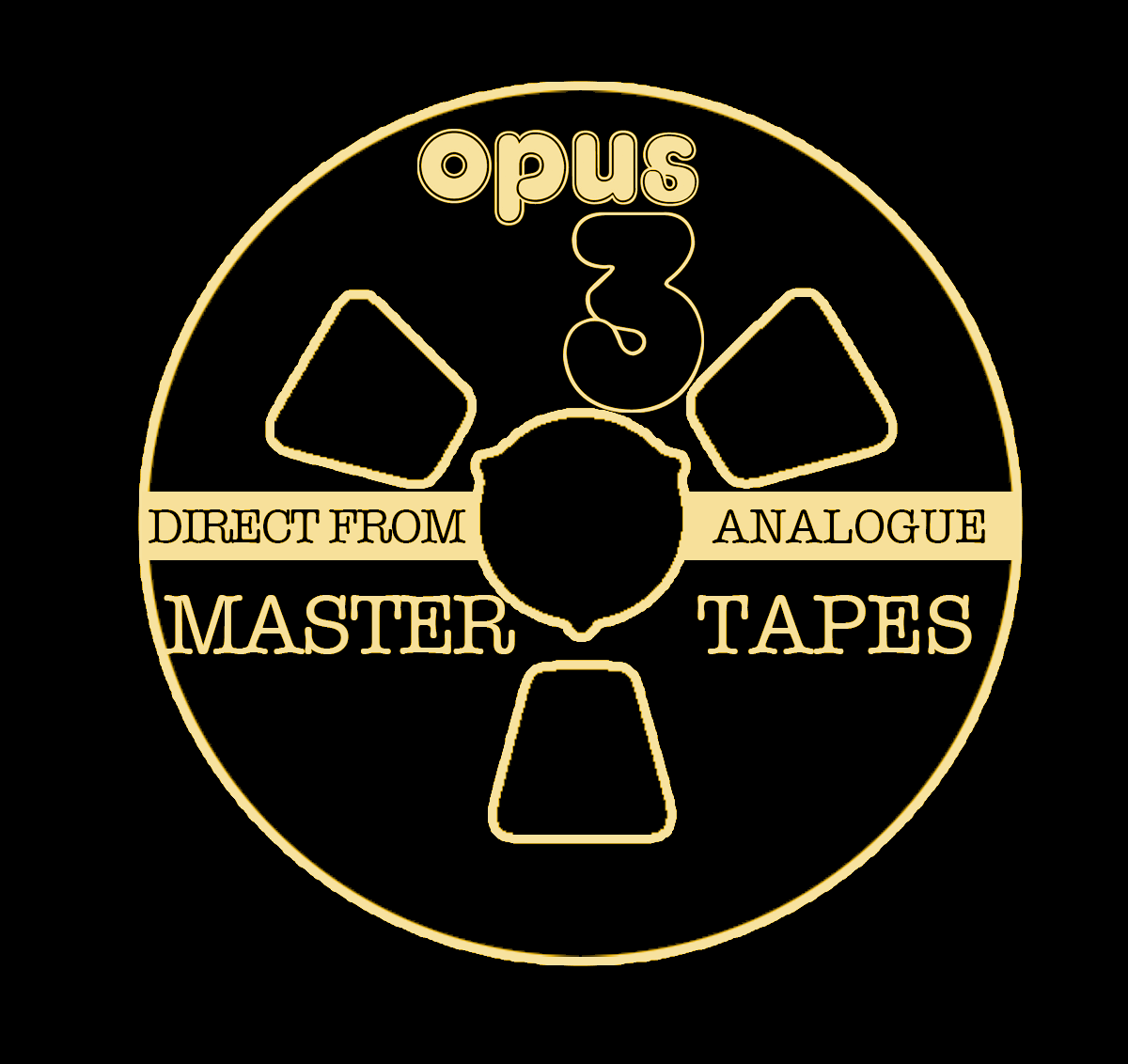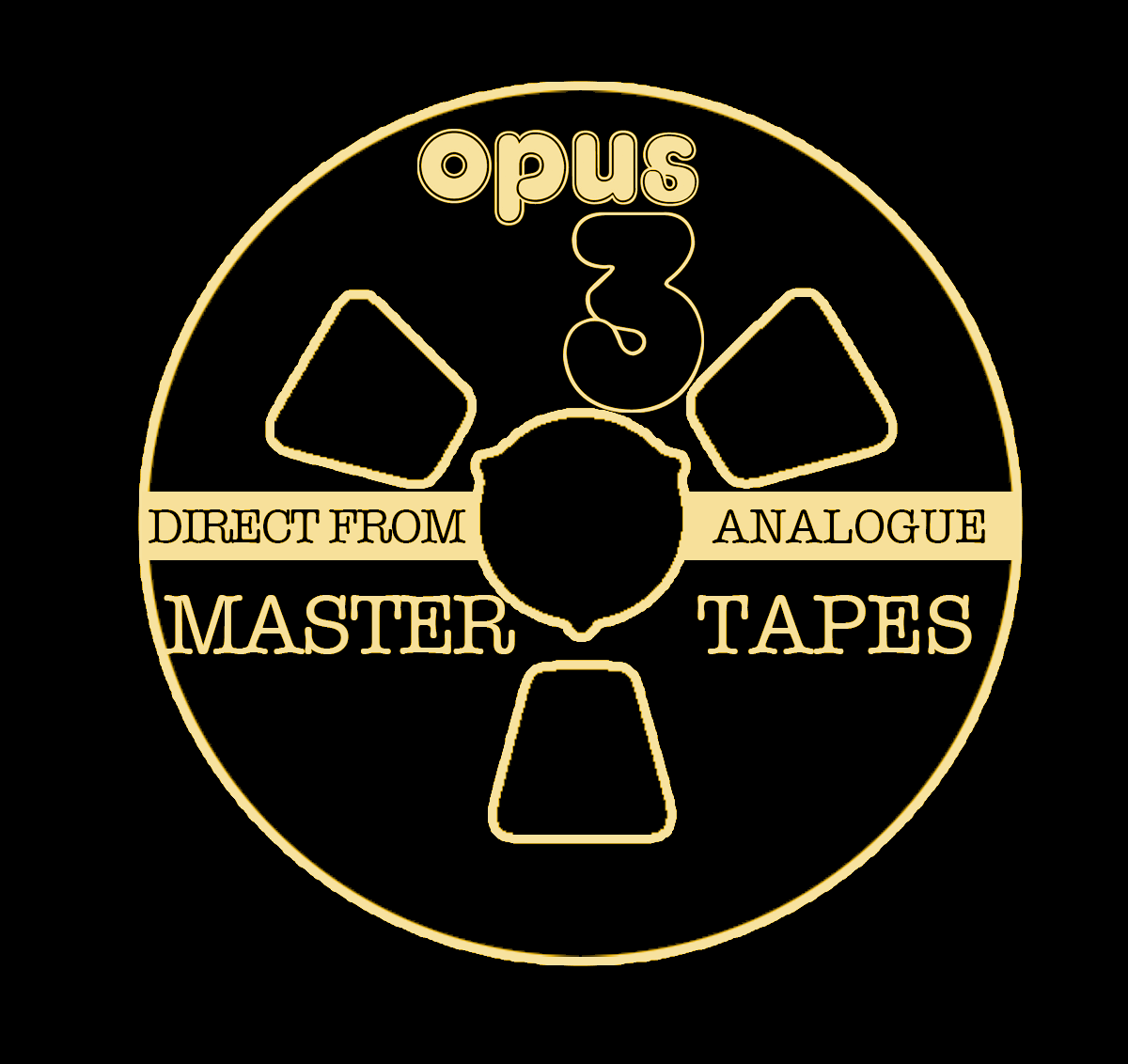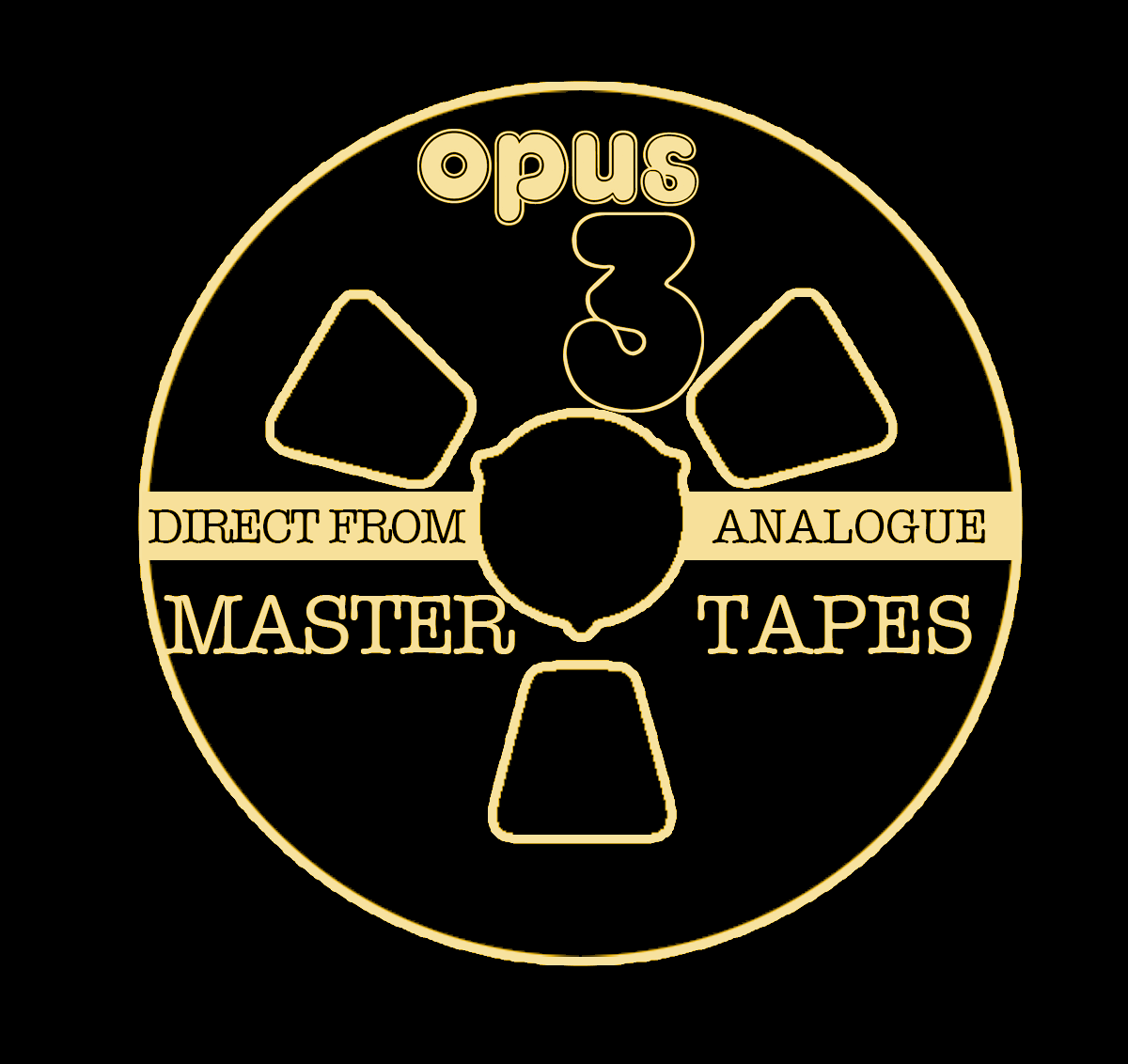 Master copies of Opus 3 analogue recordings!
The shortest and best possible signal-path, without any conversions.
The current Opus 3 catalogue contains 50 titles which have been strictly analogue recorded and preserved. The last recording was Eric Bibb´s album "Just like love" recorded in autumn 2000 which was also the first recording to be released on SACD.
To cater for the needs of people for whom only the best is good enough and demand the ultimate in sound perfection we are now introducing open-reel master copies of our albums.

All tapes are copied 'by hand', track by track, where all Mastering corrections are made with meticulous calibration and control.
We use:
A modified Technics RS-1500 for playback of the master tape, which has also been used for all of our re-mastering for SACD of our older titles. This tape recorder is world renowned as one of the best for playback. However it is specially modified to achieve the best possible quality.
Telefunken Magnetophone M-28 for the recording of your copy. This tape recorder has been used for the recording of all of Opus 3's master-recordings since 1978.
The tape:
which we used for many years was Agfa PEM-468 which is no longer manufactured, however the RMG Studio Master SM-468 produced in the Netherlands has 100% identical performance.
1/4", 2-Tracks
Speed: 38 cm/s (15")
Playback EQ: IEC (CCIR) 35uS
---
NEW!



"
One" Open Reel Selection of Opus 3 Analogue
Recordings, Vol. 6 AMC-26120



1. East of the Sun( Brooks - Bowman)
From: Lars Erstrand Quartet, feat. Kjell Öhman, "Dream Dancing" CD 9101 5´09

2. Nobody´s Blues But Mine (C. Williams))
From: "Tomas Örnberg´s BLUE FIVE and friends, CD 19102 4´53

3. Going Home (Trad. Arr. by Eric Bibb)
From: Eric Bibb, "Rainbow People", SACD 7723 4´43

Felix Mendelssohn-Bartholdy (1809-1847)
4. Allegro di molto (Excerpt) – "Lieder ohne worte".
From: Stockholm Guitar Quartet, (Medelssohn-Brahms-Debussy) CD 9001 1´59

Wolfgang Amadeus Mozart (1756-1791)
5. Allegro (Excerpt) – "Clarinet Quintet in A-major, K.V. 581"
From: Kjell Fagéus (Basset Clarinet) & Zetterqvist Quartet, CD 19301 4´06

Lars Erik Larsson (1908-1986)
6. Ballad: Moderato, - "Concertino for double bass and orchestra."
From: Thorvald Fredin & The Oskarshamn Ensemble, SACD 8522 4´46
Conductor: Jan-Olav Wedin

7. Dr. Jazz (W. Melrose - King Oliver) 5´01
From: "Kustbandet Live in Stockholm" (only available as MasterCopy or DSD128)

Playback EQ: IEC/CCIR (35uS)

2-track, 1/4" at 38 cm/s (15")

Catalogue nos. from the original albums.
---

"One" Open Reel Selection of Opus 3 Analogue Recordings, Vol. 5 AMC-25120


1. My Foolish Heart ( Ned Washington - Victor Young)
From: Yamina, "How Deep Is The Ocean", SACD 25001 5´25

2. Body And Soul (Johnny Green)
From: "Lars Erstrand and Four Brothers", CD 8402 6´44

Fernando Sor 1778 – 1839
3. Fantasie pour deux Guitares (Excerpt)
From: Duodecima, "Music for two Guitars", CD 8201 2´35

Franz Schubert, 1797 - 1828
4. Scherzo: Allegro – from: Trio in B Flat Major, op 99, D 898 (Excerpt)
From: Stockholm Arts Trio, CD 19601 4`45

Johan Helmich Roman, 1694 - 1758
5. Allegro con spirito from the Drottningholm Music
From: Omnibus Wind Ensemble, "From Mozart to Zappa", CD 9203 2´20

6. Tiden bara går (Roger Rönning) (Excerpt)
From: Thérèse Juel. "Levande", CD 7917 3´41

7. Home In That Rock (Trad./Arr. Eric Bibb)
From: Eric Bibb, "Just Like Love", SACD 22002 2´41

8. Moody Melody J. Noone)
From: The Swedish Jazz Kings, featuring Roy Williams "It´s Right Here For You", CD 19404 4´55


Playback EQ: IEC/CCIR (35uS)

2-track, 1/4" at 38 cm/s (15")
Catalogue nos. from the original albums.


---

"One "Open Reel Selection of Opus 3 Analogue
Recordings, Vol.IV AMC-24120
1.
Out of Nowhere

From: Benny Waters "Live at the Pawnshop" SACD 19911 4´17

2. Inca Roads (Excerpt)
From: Omnibus Wind Ensemble, "Music by Frank Zappa" SACD 19423 4´50

3. Nothin´ Like You Used to Do
From: Eric Bibb, "Good Stuff", SACD 19623 4`30

4. Rondo, Allegro – W.A. Mozart, (1755-1791) (Excerpt)
From: Kjell Fagéus Basett Clarinet, & The Royal Orch. of Stockholm
"Clarinet Concertos",
CD 8801 - (Excerp) 4`00

5. Junco Moreno -Alegrías
From: Manolo Yglesias, "Destino Flamenco", CD 19505 3´30

6. Reunion Blues
From: "Two Sides of Lars Erstrand", CD 8302 4´50

7. West End Blues
From: Bob Barnard, "Cornet Chop Suey", CD 19503 3´30

8. Sommarsång – W. Peterson-Berger (1867-1942)
From: Stockholm Guitar Trio, "Albeniz–Granados–Ravel-Peterson-Berger" CD 19701 2´16



Playback EQ: IEC/CCIR (35uS)

2-track, 1/4" at 38 cm/s (15")
Catalogue nos. from the original album.
---

"One "Open Reel Selection of Opus 3 Analogue Recordings, Vol.III AMC-23130



1
. House of the Rising Sun
From: Cyndee Peters, "Black is the colour", LP 7706 6´10

2. Leaves (Except)
From: Cirrus, "Lands End", CD 19803 5´09

3. Larghetto in C-minor (D. Cimarosa)
From Sthlm Guitar Quartet, "Bach Telemann", LP 7915 2´00

4. Finale: Presto non tanto (Chopin) Exerpt
From: Stefan Lindgren, "Chopin-Lizt-Rachmaninoff -Schuman-Skrjabin", CD 9202 2´10

5. Unca´s Flight
From: Knoa, "Sudden twists and turns", LP 7801 1´41

6. Memories of you
From: "Erstrand – Lind Quartet", LP 8603 3´04

7. Everybody Loves My Baby
From: The legendary Eva Taylor, "Live at the Pawnshop", SACD 22071 3´40

8. Treecircle (G. Rundqvist)


From: Gösta Rundqvist Trio, "Treecircle", CD 19801

5´27

9. Sommarsång (W.Peterson-Berger)
From: Omnibus Wind Ensemble, "Viriditas per Omnibus", CD 19304 2´33


Playback EQ: IEC/CCIR (35uS)

2-track, 1/4" at 38 cm/s (15")
Catalogue no. from the original album

---
"One" Open Reel Selection of Opus 3 Analogue Recordings, Vol.II AMC-23120



1. Meetin´At The Building (Trad./adapted by Eric Bibb & Göran Wennerbrandt) 4´01
From: Eric Bibb, "Spirit & The Blues", SACD 19421

2. My Heart Stood Still (R. Rogers) 2´35
From: Johan Dielemans Trio, "Round Midnight" CD 19302

3. Blues Opus 3 (Öhman-Gustavsson-Vinding-Dahlberg) 4´34
From: Kjell Öhman, "Hammond Connection", CD 19402

4. Gammal Fäbopsalm (O. Lindberg, 1872-1950) 4´22
From:"Horn and Organ Recital" CD 19501, Sören Hermansson: Horn & Per-Ove Larsson:Organ

5. Fantasie (S.L. Weiss, 1686-1750), 2´38
From Peder Riis, "Classical Guitar", CD 8015

6. Fasten Seat Belts (Wager-Åstrand) 3´07
From: "Live at Vattnajökull", CD 19802

7. Stealin´ Away (C. Greaves), 4´23
From: Kenneth Arnström, "Rhythm King", CD 19502

8. Easter Parade (I. Berlin), 6´29
From: "The Lars Erstrand Sessions", CD 19405

Total playing time: 32´30
One 10,5" metal reel


Playback EQ: IEC/CCIR (35uS)

2-track, 1/4" at 38 cm/s (15")
Catalogue no. from the original album

One, Open Reel.-Vol.II


---

"
One" Open Reel Selection of Opus 3 Analogue Recordings - AMC22120
1. Here´s That Rainy Day (Jimmy van Heusen) 4´14
From: Joakim Milder: "Consensus", CD 9201

2. Teach Me Tonight (M. Gene de Paul) 3´53
From: Knud Jörgensen, "Teach Me Tonight", SACD 8421

3. Black Beauty (D. Ellington) 4´38
From "A Selection from Tomas Örnberg´s BLUE FIVE & The Swedish Jazz Kings", SACD 22101 / CD 8003*

4. Where The Green Grass Grows (Excerpt) (Eric Bibb) 3´54
From: Eric Bibb, "Good Stuff", SACD 19623

5. Vaquero (Excerpt) (G. Wennerbrandt – O. Eriksson) 3´53
From: Tiny Island, SACD 19824

6. La Maja de Goya (E. Granados)
Stockholm Guitar Quartet, "A Selection from...., SACD 22062 / CD 7810* 3´20

7. Nun komm der Heiden Heiland... (Excerpt) (J.S. Bach)
The Erik Westberg Vocal Ensemble & Mattias Wager: Organ, SACD19516 3´02

8. Scherzo from Symphony No.2 in D Major (L. van Beethoven) 3´36
From: Stockholm Sinfonietta, CD 19504

9. Overture to Carmen (G. Bizet) 2´16
From: The Omnibus Wind Ensemble, SACD 22082 / CD 19602*

Total playing time: 33´20
One 10,5" metal reel

* Catalogue number of the original album.
---
Classic Jazz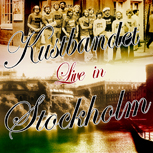 AMC 041975
KUSTBANDET LIVE IN STOCKHOLM

From the vaults!

In April 1975, a year and a half before Opus 3 Records was founded, we had the pleasure of making a live recording of Kustbandet. It was a really swinging event and as the well known character from the era Fats Waller put it…."The joint was jumpin".

When you think that it is almost 40 years since this recording was made it is very gratifying that we were able to capture the fantastic energy, musicianship and enthusiasm for the essential elements of jazz from this era, making it easy to forgive any imperfections of balance between the different instruments due to a less than perfect environment.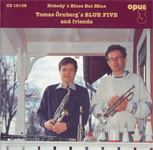 AMC 19102
TOMAS ÖRNBERG'S BLUE FIVE AND FRIENDS
Nobody's Blues But Mine

We have built up this recording round a number and variery of guest soloists, to give a wide number of personal sounds.
In addition to Bent Persson (tp), Olle Nyman (bj/gtr) and Bo Juhlin (sous), who of course all are members of the BLUE FIVE group, we find: Bob Barnard (tp), Keith Durston (p), Morten Gunnar Larsen (p), Joep Peeters (p), and Frans Sjöström (bass sax).

AMC 19404
Swedish Jazz Kings featuring Roy Williams
It's Right Here For You"

The Swedish JazzKings are based on the Tomas Örnberg's "BLUE FIVE" band already known from their Opus 3 recordings.
Several of the musicians are the same as in the Blue Five recordings, while this album covers a wider musical spectrum.
This recording marks the debut of the Swedish Jazz Kings musical concept: 75 minutes of Chigago - New Orleans jazz, with three pianists and three bass instruments providing the stimulating variation behind the concept which includes the world-famous trombonist Roy Williams as guest.
Includes: How Come You Do Me, Potato Head Blues, Gulf Coast Blues' Shake lt And Break It, Mr. Jesso Sugar Foot Strut etc.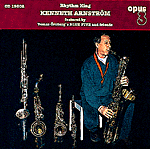 AMC 19502
Kenneth Arnström, featured by Tomas Örnberg's BLUE FIVE and friends.
Rhythm King

One of the biggest talents in Swedish jazz (until now unwilling to make solo records) finally makes a recording debut in his own name, and in many dilferent styles. We hear Kenneth Arnström playing clarinet, alto sax, tenor sax, baritone sax and bass clarinet. The music played is classical (vintage) jazz, influenced for example by Coleman Hawkins, L. Armstrong, E. Condon and the classic New Orleans clarinettists - all woven into a distinctive style and personality: Kenneth Arnström's. Tomas Örnberg; cl/sop, Bent Persson; cnt/trp, Olle Nyman;bj/gtr, Göran Eriksson; bj, Keith Durston; pi, Bo Juhlin; sous,
Tomas Ekström; b.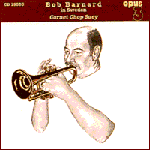 AMC 19503
BOB BARNARD
Cornet Chop Suey

Australia's internationally best known and most successful jazz musician, trumpeter Bob Barnard, with a unique mastery of everything from 1920s Armstrong to Swing and Mainstream, plays a varied mixture of three
Armstrong classics for quartet, two duo ballads and ten familiar and less familiar Dixieland and Swing numbers in two diflerent quintet settings.

A record longed for by critics and general public alike, because in recent decades Bob has mostly recorded Mainstream.
Lars-Erik Eriksson; cl, Olle Nyman; bj/gtr, Johan Bijkerk; pi, Björn Hagerman: bass. Kalle Nygren; pi and Tomas Örnbergl cl.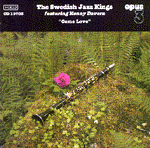 AMC 19703
The Swedish Jazz Kings
"Comes Love"
Kenny Davern is today one of the most interesting clarinet player in the world.

His very own tone and phraseology and maybe also the biggest and fattest tone a jazz clarinettist ever had, makes Kenny Davern totally unique and furthermore, nobody has developed and used the clarinet's dynamic potential to the same extent as Kenny Davern.
This CD consists of tracks from three sessions.
Besides the regular members of The Swedish Jazz Kings, we will hear, together with Kenny Davern, the excellent English pianist Martin Litton.
In the other sessions we would very much like to mention the outstanding English trombone player Bob Hunt, Frans Sjöström on bass saxophone and the pianists Keith Durston and Chris Hopkins.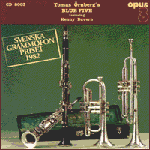 AMC 8003
TOMAS ÖRNBERG'S BLUE FIVE
featuring Kenny Davern

Besides the basic BLUE FIVE group, which of course includes Bent Persson on trumpet and Bo Juhlin on sousaphone, this CD also includes the American Clarinettist Kenny Davern who is featured in six tracks. Together they play their way through their own very inspired versions from the Blue Five era repertoire.
This recording was awarded with the 1982 Swedish Gramophone Prize for the best jazz production of the year!
Tunes like: New Orleans Stomp, Black Beauty, Rocky Mountain Blues, Too Busy, Bienville
Blues, Let's Sow Wild Oat, Mood Indigo etc.
Swing and Mainstream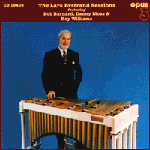 AMC 19405
THE LARS ERSTRAND SESSIONS
featuring:
Bob Barnard, Danny Moss & Roy Williams

For this recording we asked Lars Erstrand to choose three of his favourite musicians as soloists. He chose Roy Williams, trombone, Bob Barnard, trumpet and Danny Moss, tenor sax - each of them a world star on his instrument.

Bob Barnard, who went professional in 1949 at the age of 16, can look back on a long and successful career. Today he is by far the biggest name in Australian jazz and the country's internationally best-known and most sought after jazz musician. Like Roy Williams, he is second to none on his instrument and in the styles he commands.

Danny Moss too is one of Britain's best known jazz musicians and for many years has ranked as Europe's leading Swing tenor player. With his vigorous playing and unusually big sound, he has become the heir of the classic
American Swing tenor players. He lives half the year in Australia and the other half in Britain, in this way dividing his concert tours between both
hemispheres.

Roy Williams has long been one of Britain's best known and most successful jazz musicians. Today he is one of the internationally most sought after players in Europe, not least by American bands on tour. Like Bob Barnard, he is one of the very few stars today with a real feeling for both twenties,
Swing and Mainstream. Because of his sound and the ease with which he commands his instrument, many consider him perhaps today's top trombonist in any category.

In "The Lars Erstrand Sessions" we also hear two different quartet forces with a number of musicians from Sweden's swing jazz elite:
Jan Lundgren and Kjell Öhman, piano.
Leif "Gus" Dahlberg and Ronnie Gardiner, drums,
and Tommy Johnson and Arne Wilhelmsson, bass.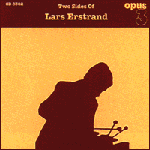 AMC 8302
TWO SIDES OF LARS ERSTRAND

This recording really shows three sides of the world famous vibe player Lars Erstrand: in duo, trio and quintet settings! Together with Sweden's swing elite, he plays tunes like: Gladys, Move, Land Of The Midnight Sun,
Exactly Like You, Reunion Blues, Cavatina, Concerto D'aranjuez, Sweet Georgie Fame, etc.

Roland Jivelid, tenor sax, Knud Jörgensen, piano, Bertil Fernqvist, guitar,
Arne Wilhelmsson, bass and Pelle Hultén, drums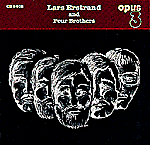 AMC 8402
LARS ERSTRAND AND FOUR BROTHERS

Following their successful collaboration in the quintet setting from the "Two Sides "recording with Knud Jörgensen (piano), Roland Jivelid (tenor sax), Arne Wilhelmsson (bass) and Pelle Hultén (drums), the gang returns with pieces like: There With You, Body And Soul, Too Good To Be True, T And S, The Rabbit Jumps etc.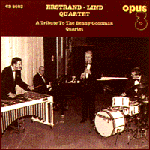 AMC 8603
ERSTRAND-LIND QUARTET
A Tribute To The Benny Goodman Quartet

This recording includes most of the Goodman favourites: Stomping at the Savoy, Don't be that way, Avalon, Smiles, Opus fi, Pick a rib, etc.

It is worth mentioning that, for his Paris concert in 1972,Benny Goodman chose these players for his accompanying group - though, needless to say, minus clarinettist Ove Lind. Rolf Larsson, piano and Pelle Hultin, drums.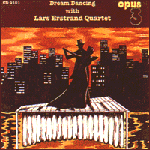 AMC 9101
LARS ERSTRAND QUARTET
Dream Dancing

After three successful recordings for Opus 3, here he is again, this time with his newly formed quartet! Also featured on this recording is one of Sweden's best keyboard players, Kjell Öhman, playing both the piano and last
but not least, the legendary Hammond B3 organ! Lars Erstrand, let it be known, ranks as No.3 in the world in his intstrument according to Jazz Journal International.
Leif "Gus" Dahlberg, drums and Tommy Johnson, bass.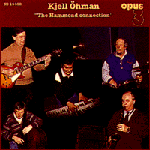 AMC19402
Kjell Öhman
The Hammond Connection
In this recording Kjell has gathered some of his favourite musicians round the Hammond B3 in a selection of his favourite jazz evergreens. It is interesting to note that in recent years there has been a massive revival of the authentic Hammond B3 organ in jazz, rock and blues.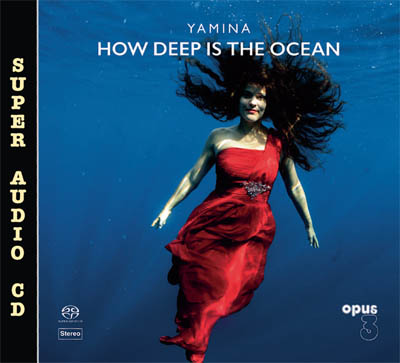 AMC 25001
YAMINA
How Deep Is The Ocean
While this album was recorded in Native DSD128, it is on the same level of recording-quality as an analogue recording!
Modern Jazz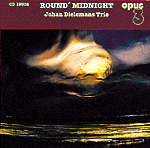 AMC 19302
JOHAN DIELEMANS TRIO
Round'Midnight

Johan Dielemans Trio is a jazz trio which was formed quite recently but by veteran musicians!

Johan, the groups leader and drummer, has collaborated a great deal with Monica Zetterlund, but also Monica Borrfors, Knud Jörgensen and the Stockholm Jazz Orchestra. Pianist Alvaro Is, who was born in Spain
but settled in Sweden in 1966, collaborated, for example with Red Mitchell.

On this recording we hear a number of standards - rather in the ballad line and
lyrical interpretations like: Love for sale, Come rain or come shine, Humph,
Round' Midnight, Like someone in love, etc. Olle Steinholtz on bass.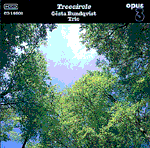 AMC 19801
Gösta Rundquist Trio
"Treecircle"

A record is born of dreams and hopes. As a musician, one constantly wants to go further or deeper, unfold and evolve, renew the power of expression, the interplay, the dynamics, the flow.

The dream is to find musicians with whom
you can experiment and find your way together with. Three individual voices becoming a trio - a single entity.
The dream is that the recording situation itself contributes by being a real spiritual encounter. The dream of a concert hall with
good natural acoustics and an excellent grand piano.
The dream of recording without acoustic panels and separate rooms, multiple microphones, mixer-board and reverb units.
The dream is of direct eye- and earcontact between the musicians, here and now, throughout the recording session.

Includes: For Heavens Sake, Falling Grace, A Flower Is A Lovesome Thing,
Turn Out The Stars, The Meaning Of The Blues, How My Heart Sings.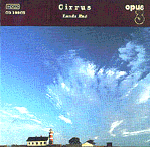 AMC 19803
Cirrus
"Lands End"
Cirrus was started in 1992 reaching it's present form in 1997 which comprises two acoustic guitars, tenor and soprano saxophones, didgeridoo, melodica, double bass and percussion, here playing their own compositions.
This somewhat unconventional line-up of instrumentation was brought about by the
individual musicians needs to break away from the accepted norms associated with jazz, pop and rock - fields in which all of the group have already had considerable experiences - and give range to their musical creativity in
composition, musical expression, improvisation and indisputable talent.

AMC 9201
T
enor Saxophonist Joakim Milder has been dubbed the most sensational new arrival in Swedish jazz. His two previous recordings have been acclaimed by reviewers the world over, and his second release, "Still In Motion", earned him the "Golden Disc" for the best Swedish jazz release of 1990. In this third recording he presents a number and variety of settings, mostly in the quartet format. The programme includes tunes like: My Funny Valentine, Darn That Dream, Body And Soul, Alone Together and
Monk's Played it Twice - to mention just a few.
Johan Hörlén; alto sax, Anders Persson; piano, Christian Spering; bass and Magnus Gran; drums.
"The Scandinavian countries have produced a wealth of superb jazzmen out of proportion to their respective populations. Milder is the most sensational newcomer on the Swedish jazz scene." (Jazz Journal International)
Chamber and Solo instruments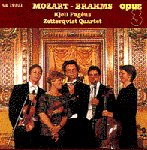 AMC 19301
KJELL FAGÉUS & THE ZETTERQVIST
QUARTET

Wolfgang Amadeus Mozart: Clarinet Quintet in A-major, K.V. 581*
Johannes Brahms: Clarinet Quintet in B-minor, Opus 115.

Mozart's Clarinet Quintet, of course, is an eminently well known piece, but what is less well known, the "original version" was expressly written, not for an ordinary clarinet but for the *basset clarinet. On this recording we can
hear one of the first versions in the world!
It is intersting to note that these two compositions (also then refering to the Clarinetconcerto) are the only ones ever written for the basset clarinet.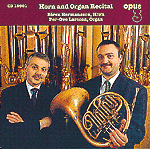 AMC 19501
SOREN HERMANSSON AND
PER-OVE LARSSON
Horn and Organ Recital

This rather unusual CD of music for horn and organ features international horn player Sören Hermansson together with star organist Per-Ove Larsson.
The repertoire extends from an early work by Camille Saint Saëns (written in 1854) to Bernhard Krol's Missa Muta, written in about 1960.
The international array of composers represented includes: Henk Badings, Bernhard Reichel and Georg Hoeberg, though the main emphasis is on Sweden's folk music heritage: Oskar Lindberg's Gammal Fäbodpsalm, August Körling's Pastorale and Hugo Alfvén's Notturno Elegiaco.
This CD offers both romantic atmosphere and
sharper sounds with a variety of both colour and dynamics.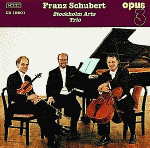 AMC 19601
The Stockholm Arts Trio
Franz Schubert

As part of the bicentenary celebration of the birth of Franz Schubert (1797 - 1828) we have the pleasure of releasing two of his compositions for pianotrio:

The Trio in B Flat Major, op. 99, D- 898 generally considered to be one of Schubert's masterpieces for chamber orchestra.

A rare recording of the "Sonata in B Flat Major, D-28, piano-trio which was composed by Schubert when he was only 15 years old.
The members of the Stockholm Arts Trio are individually all winners of international competitions and together are considered to be one of Sweden's outstanding chamber-music
ensembles. Since 1988 they have toured internationally, including among others
annual tours of USA and regular performances in Germany and England.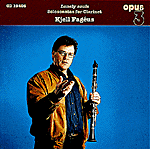 AMC19406
KJELL FAGÉUS
Lonely Souls
Lonely Souls" is an inward musical journey with a solitary clarinet, a clarinet conveying the different characters and styles of 12 composers. It is beautiful - calm and agitated, happy and sad, introvert and extrovert - naked and revealing.

AMC19802
MATTIAS WAGER - ANDERS ÅSTRAND
Live at Vatnajökul
If you are wondering what prompted an organist and a percussion/marimba/vibraphone player to journey to Iceland to make a recording with improvised music and a special arrangement of Maurice Ravel's Bolero, then perhaps the word inspiration could be the most succinct answer.
Classical Guitar

AMC 19701
STOCKHOLM GUITAR TRIO
Albeniz - Granados - Ravel - Peterson-Berger

The Stockholm Guitar Trio really develop the potential of the conventional guitars possibilities from the point of view of tone and repertoire in a very skilful and elegant manner.

The Stockholm Guitar Trio comprises three versatile and accomplished guitarists,
Anders Karlsson, Jacob Henriques and Jens Kihlén who have also transcribed all of the music on this their debut CD.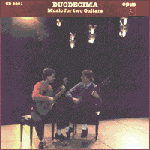 AMC 8201
DOUDECIMA
Music for two Guitars

Duodecima consists of Lars Karlsson and Mikael Ljung.

In this recording, they play original music written for two guitars by:
Fernando Sor; Fantasie pour deux Gitares Guido Santórsola; Sonata a duo
John W. Duane; Variations on a French nursery song
and Pierre Petit; Toccata.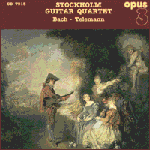 AMC 7915
STOCKHOLM GUITAR QUARTET
Bach - Telemann

The second of the Stockholm Guitar Quartet's successful albums is devoted to Baroque music and includes transciptions of:

Bach - Brandenburg Concerto No. 6
Telemann - Violin Concerto in G Major
Frescobaldi - La Frescobalda
and Cimarosa - Larghetto in C minor.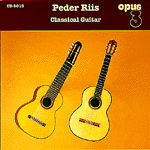 AMC 8015
PEDER RIIS
Classical Guitar
Peder Riis, leader of The Stockholm Guitar Quartet, is presented here in a solo recording, using a conventional classical guitar and Georg Bolin's alto and bass guitars.
Works by: Bach; Suite No.2 in C-minor BWV 997,
Villa Lobos; Prelude No.5, Etude No.S, Mazurka-Choro, Turinai Homage a
Tärrega
and Weiss; Tombeau, Chaconne, Fantasie.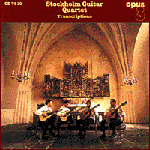 AMC 7810
STOCKHOLM GUITAR QUARTET
Transcriptions
The Guitar Quartet presents an entirely new family of instruments, consisting of four differently tuned guitars: soprano guitar, alto guitar, guitar, and bass guitar. In this internationally acclaimed recording they play Baroque, Impressionist and Spanish music in their own transcriptions.
Orchestral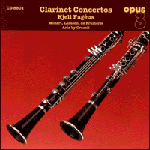 AMC 8801
KJELL FAGÉUS
The Royal Orchestra Stockholm, conducted by Eri Klas

This unique recording of Mozart's Clarinet Concerto employs a basset clarinet instead of a conventional clarinet.
In addition to Mozart, the recording features music by three Swedish composers: an aria by Bernard Crusell, sung by MariAnne Häggander, Lars-Erik Larsson's "Homage á Mozart" and a clarinet concerto by Gunnar de Frumerie.
Wind Ensemble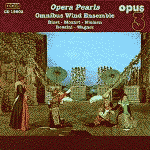 AMC 19602
OMNIBUS WIND ENSEMBLE
Opera Pearls
Works by: Bizet, Mozart, Nielsen, Rossini and Wagner
"The superlatives which have been applied to the Omnibus Wind Ensemble have been piled one on top of the other. Words such as competent, professional and masterly overflow. We are invited to beautiful, entrancing and almost seductive tones with perfectly balanced sound.
The twelve musicians of the Omnibus Wind
Ensemble invite us to music which is both zestful and refreshing.
Opera Pearls contains exuberant and delighful overtures with beautiful and seductive arias.
Here we find both deep seriousness and spiritual humour." (Norra Västerbotten)
Piano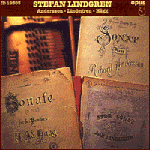 AMC 19303
STEFAN LINDGREN
Piano
Richard Andersson: Sonata
Johan Lindegren: Grand Sonata
Jakob Adolf Hägg: Sonata

On this recording, Stefan Lindgren performs three Swedish piano compositions which, incomprehensibly, have been silent for decades - three absolute treasures, testifying to the stature of Swedish piano music in the
19th century.
None of them has been recorded previously, and a couple of them, probably, have not even been performed in public for over a century.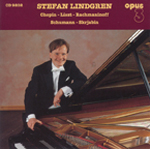 AMC 9209
STEFAN LINDGREN
Piano
Frederic Chopin: Sonata No.3 in
B minor, Op.58
Franz Liszt: Mephisto Waltz No.1
Sergei Rachmaninoff: Prelude in
C sharp minor, Op.3, No.2
Robert Schumann: Arabesque in
C sharp minor, Op.18
Alexandr Skrjabin: Fantasie in
B minor, Op.28

"After experiencing this, his first independent CD, one only hopes that in the future he will be given ample opportunities of perfroming, for what he has achieved here is nothing short of the very, very best!" (SvD)
Order