BBlues, Ballads and Work Songs
---
Blues, Ballads & Work Songs is an album I have been working on for most of my life. Its
release co-incides with my 60th birthday and it celebrates the music that first inspired me
to become a guitar-playing singer.
My father, Leon Bibb, was part of a wonderful folk music scene in New York City during the 1950's & 60's and his world became my world when I was very young. I still treasure a copy of one of his early LP's on the Vanguard label, "Tol' My Captain", that included the work song "Take This Hammer".
Most of the songs on B, B & WS were "standards" of the folk/blues scene I was exposed to as a child. I heard them performed on countless occasions by my father's friends and colleagues. I often think of this music as part of my DNA. It has a lot to do with who I am today.
Being as passionate about writing songs as I am about singing and playing traditional material, I couldn't resist including the self-penned tunes at the end of the record. These newer songs are the "children" of the older ones.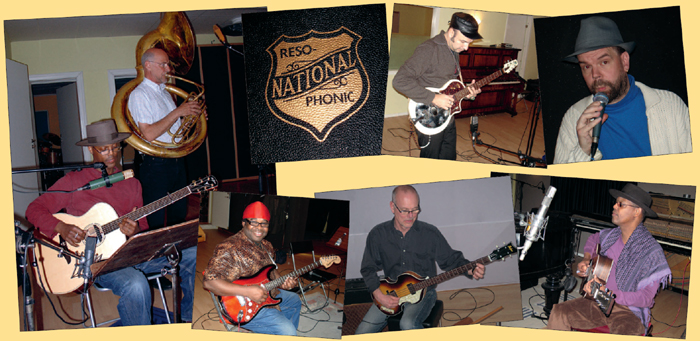 A few years ago, Jan-Eric Persson, of Opus 3 Records in Sweden, suggested that I make a solo album with the kind of bluesy, traditional songs that have always been in my repertoire.
Since I'd been considering such a project for some time, the idea appealed to me – although I wasn't sure I was ready for it. I knew that recording a solo album of this material would be an exciting challenge. The trick is to make it your own, while still honoring the tradition – and that takes time.
We agreed that we would record a song or two per session until we felt that the record was "in the can". Given a busy touring schedule and numerous other projects, it ended up taking a few years to complete.
I've known Jan-Eric for thirty-five years. This new collaboration with him is also a celebration of our friendship and combined experience recording music that makes our world go 'round. If I had heard this record as a child, I reckon it would have been one of my favorites.
I sure enjoyed making it.
Eric Bibb
(on a flight to New York)
July 1, 2011