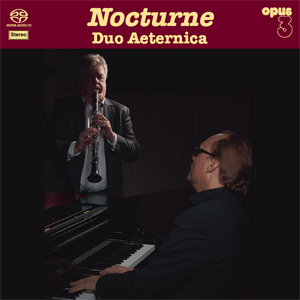 SACD 28001

SACD / Hybrid *



Nocturne
---
Kjell Fagéus - clarinet
Love Derwinger - piano


T

he program on this record is put together with the ambition to present beautiful music from 19th and 20th century that also will widen the repertoire for clarinet and piano.
The main part of the music are transcriptions carefully adapted to be played on the clarinet. All piano parts are original.
We have chosen pieces that in many ways have the same musical language throughout the CD. That means the listener can listen to recording like to a whole symphony, where the tonal language is the same, still the music presents many different tempi, dynamics and expressions.

Tracklist
Order